What happens when seniors can no longer live comfortably at home? Some people think that being unable to live alone means that a senior should enter nursing care, but that's not necessarily true. The reality is that there are several living options in between total independence and nursing care, such as assisted living.
Everyone deserves the support necessary to live comfortably, with dignity and autonomy. In many cases, assisted living situations provide exactly that. If you're looking for the best assisted living Michigan has to offer, you're in luck: Michigan is home to more than 750 assisted living communities.
If you're searching for the best senior living arrangement for yourself or a parent, make sure to weigh cost and quality. This article will explain everything you need to know about assisted living homes, how Michigan's pricing compares to other states, tips for assessing quality, financial resources and more.
There's a reason so many seniors choose John Ganton's Countryside over other retirement communities. Whether they need independent or assisted living, nursing or memory care, seniors can age in place from one large, beautiful campus.
Michigan Assisted Living 101
Choosing where you or a parent will grow older isn't a small decision, and it shouldn't be taken lightly. Situations that are ideal for some seniors are a bad fit for others, which is why it's important to understand exactly what assisted living is before making a decision.
What Is Assisted Living?
In many ways, assisted living is what it sounds like — an arrangement that assists seniors with activities of daily living (ADLs). These activities can include bathing, dressing, personal hygiene, medication management and more. Most assisted living communities also provide the following:
Prepared meals
Transportation services
Housekeeping and laundry
Maintenance
Fitness programming
Planned social and recreational opportunities
Instead of individual houses, seniors in assisted living communities generally have their own apartments. This allows residents to maintain a sense of autonomy while still receiving the support they need to live a happy, healthy lifestyle.
How Is Assisted Living Different from Other Senior Living Options?
Senior living options are categorized based on the levels of care and autonomy they provide. In general, assisted living communities offer more in-depth care and less autonomy than independent living, but less medical care and more autonomy than nursing or memory care.
Who Needs Assisted Living Care?
Assisted living is ideal for people who need a little help taking care of themselves and their homes, but who don't require around-the-clock care. This is also a great living situation for seniors who prefer the company of their peers and who struggle to maintain social connections when they're isolated.
Michigan Assisted Living Costs
Ideally, money wouldn't factor into senior care, but that's not the world we live in. Before deciding on a particular assisted living situation, it's important to assess its affordability in relation to the services and amenities it provides.
Michigan Compared to Other States
When it comes to affordable assisted living, Michigan is a great place to be. The median monthly cost of Michigan assisted living is $3,850, significantly less than the national average of $4,000. The median cost of assisted living in Michigan is also cheaper than the median cost in all neighboring states. Here's the breakdown:
Michigan: $3,850
Ohio: $4,278
Wisconsin: $4,300
Indiana: $4,385
Illinois: $4,030
It's important to understand that the median monthly cost of assisted living will vary, depending on several factors. Some arrangements will be cheaper or more expensive, and choosing the best situation for you will depend on lifestyle preferences, location and required care.
City-by-City Assisted Living Cost Comparison
The average monthly cost of assisted living in Michigan will vary based on where you choose to live. Larger cities tend to be more expensive than smaller towns, a difference that is reflected in cost of living. Here's the average cost of assisted living across seven areas in Michigan:
Ann Arbor: $5,050
Battle Creek: $3,050
Bay City: $3,200
Detroit Area: $4,224
Grand Rapids Area: $4,200
Jackson: $3,873
Saginaw: $2,825
Michigan assisted living is considerably less expensive than Michigan nursing home care, which is still relatively cheap compared to the rest of the country. After independent living, which doesn't provide any assistance with ADLs, assisted living communities are the cheapest option for long-term senior care in the state.
Ways to Pay for Assisted Living
Just because assisted living is more affordable in Michigan than in many other states doesn't mean it isn't costly or that everyone can afford it. Luckily, there are several ways to finance assisted living if you can't afford to pay out-of-pocket.
Michigan Choice Waiver Program
Although Medicaid does not directly cover the costs of assisted living, they do offer the MI Choice Waiver to eligible applicants. The waiver covers the costs of personal care services like bathing, dressing and other ADLs, but not room and board. The waiver also offers community transition services for seniors who want to move from an institution to assisted living.
Veterans Benefits
If you or your parent are a veteran, you can take advantage of several different pension programs to finance the cost of assisted living. Some programs provide monthly payments to help cover the cost of assistance with ADLs. Find more information here.
Life Insurance Policies
Some life insurance policies have allowances for assisted living, even if a spouse or a loved one hasn't died. Speak to your life insurance provider to find out if your policy includes provisions for senior care.
Long-Term Care Insurance
Long-term care insurance is a type of policy that helps pay for the cost of senior arrangements like assisted living when it becomes necessary. You can find more information about the advantages and disadvantages of long-term care insurance policies here.
Reverse Mortgages
Seniors who own homes may be able to access the equity they've built through a reverse mortgage. Learn about the U.S. Department of Housing and Urban Development's federally insured reverse mortgage program here.
How to Tell if a Michigan Assisted Living Home Is Good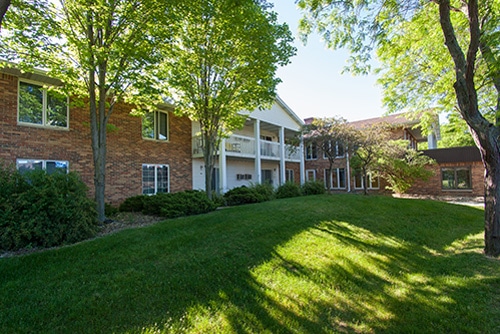 When you're searching for the highest quality of senior living Michigan has to offer, price shouldn't be your only consideration. There are many features of exceptional assisted living arrangements that differentiate them from mediocre or sub-par offerings.
Green Space and Outdoor Activities
Spending time in nature has profound psychological and physical benefits for people of every age, but may hold special advantages for seniors. In a 2020 study, researchers found older adults who had access to nature-based activities experienced better overall well-being than those who did not. Nature-based activities improved seniors' sleep quality, psychological health and cognitive functioning, and reduced anxiety.
Active Adult Community
Loneliness and social isolation in older adults are major public health concerns, according to the Centers for Disease Control and Prevention (CDC). Social isolation increases a person's risk for a premature death of all causes, rivaling the risks of smoking, obesity and physical inactivity. That's why it's essential to find an assisted living arrangement that facilitates an active adult community with programs, social events, recreational opportunities and public meeting venues.
The Ability to Age in Place
Moving is one of the most stressful things that anyone can do, regardless of age, and it can be especially stressful for older people. The best assisted living communities are ones that allow seniors to age in place by providing additional care and services to accommodate their changing health needs.
Wide Range of Amenities
Assisted living is all about making a senior's life enjoyable again by providing a stress-free lifestyle and appropriate care. Like any style of senior living, Michigan's best assisted living communities will offer a wide range of amenities. These may include chef-prepared meals, 24-hour staff, recreational facilities, transportation services, activity programming and more.
Michigan Assisted Living FAQs
For many folks, fully grasping what assisted living is and is not takes some time. If you're in the process of researching this type of senior arrangement, you probably have a lot of questions. Don't worry — that's totally normal. Read through our FAQs to see if we can answer yours.
What's the difference between independent and assisted living?
Although these living styles share many similarities, independent living homes, which are sometimes called retirement homes, do not offer the help with ADLs that assisted living homes do. Additionally, homes in independent living communities are more like typical homes than the apartments provided by assisted living.
Who regulates assisted living communities in Michigan?
The state of Michigan uses the term "adult foster care facility" to refer to several types of senior living, including assisted living. Regardless, they are regulated by the Michigan Department of Human Services and their Bureau of Children and Adult Licensing.
Can assisted living residents have overnight guests?
Yes! When you choose assisted living, your apartment is your home. That means you can come and go as you please and have guests whenever you want.
Does Michigan provide any free assisted living programs for low-income seniors?
Area Agencies on Aging (AAA) is a network of hundreds of nonprofits across the country that provide federally funded services to adults over 60 in their local areas. You can visit the AAA of Michigan to locate free assisted living resources near you.
Are pets allowed in assisted living?
Most assisted living communities allow pets. Caring for a beloved pet is one of life's treasures and can help ease the transition into senior living.
Can I bring my own furniture?
Absolutely! Residents can fill and decorate their apartments as it suits them. Bringing furniture and other important belongings can decrease feelings of homesickness and help with the adjustment period.
When is it time to consider assisted living?
The ideal time to transition to assisted living is different for everyone. However, when a person loses the ability to care for themself or their home, it's time to start thinking about options. Poor personal hygiene, forgetting medication and doctor's appointments and being unable to keep up with the home can all signal it's time for a change.
Michigan Assisted Living Done Right
Assisted living is about more than just providing help with daily tasks. It's about creating an environment that fosters wellness in all its forms — social, physical, mental and emotional. When you want the best assisted living Michigan can provide, look no further than John Ganton's Countryside.
At Ganton's, we understand that with the right type of support, a person's golden years can be some of the happiest of their life. We also know the importance of aging in place, which is why we offer a continuum of senior care. From independent and assisted living to memory care, skilled nursing care and rehabilitation, we provide care for every stage of senior life.
Ready to learn more about the Ganton's senior experience? For more information about Countryside, please call Margaret Nagel at (517) 206-5000 or download our brochure to learn about our care levels, cost, and amenities.